Advance Your Career
The Appalachian Master of Health Administration program is a hybrid online program designed to meet the needs of working professionals in western North Carolina. Graduates will have the knowledge and ability to be strong leaders of health care organizations throughout western North Carolina, the state, and nation. Watch two students talk about their experiences in the MHA here.
About the MHA Program
Testimonials from Students of the MHA
Online Program
The program is offered online through App State Online making it available to working professionals desiring to advance their careers. With health care management faculty teaching in both the undergraduate and graduate programs, the rigor and quality for which the baccalaureate health care management program is known is carried forward to the MHA program. Working professionals will earn a master of health administration degree while still working full time from an institution with forty years of experience educating health care management students.

The courses are designed with the working professional in mind including a theory to practice perspective that incorporates authentic projects and assignments in an active learning environment. The use of digital technologies allows students to meet and interact when convenient yet simulates the face-to-face classroom.

Our annual fall on-campus orientation is both a networking opportunity and an introduction to the program. Students meet their classmates, the faculty and staff who they will work with during their academic careers and learn about the program. Meeting fellow classmates, and learning about their discipline, the type of work they do, and their career goals often is the beginning of a life-long professional relationship. Time during orientation is also dedicated to access the online courses and use the digital technologies, meet the learning technologist, and complete the first assignment.
Part-time or Full-time
The 46 credit hour program offers part-time and full-time enrollment. Students enrolled full-time can complete the program in two years. The flexibility of the program allows part-time students to complete the program in three years. The program is designed around a flexible schedule that enables busy health care professionals to balance work and personal life with a strategic investment in their career.
Curriculum & Concentrations
The program embodies the Appalachian mission in focusing on the management of rural health and rural care organizations. In addition to a strong core curriculum in general health administration, students will have two possible areas of focus: health care leadership and health information systems.
Core Courses
Foundations of the US Health Care System Statistics for Health Administration
Health & Disease
Organizational Development & Behavior in Health Care
Financial Management for Health Organizations I, II Performance Improvement Concepts & Application
Health Economics
Management & Human Resources in Health Organizations
Health Law & Policy
Health Care Informatics
Executive Skills Development Strategic Management in Health Care
Leadership Focus
Leadership in Health Care
Health Care Operations Management Marketing in Health Care
Information Systems Focus
Health Care Data Management
Data Analytics in Health Care
Health Information Project Management
For More Information
For more information on the Master of Health Administration program and other programs in the Beaver College of Health Sciences, contact Dr. Sandi Lane.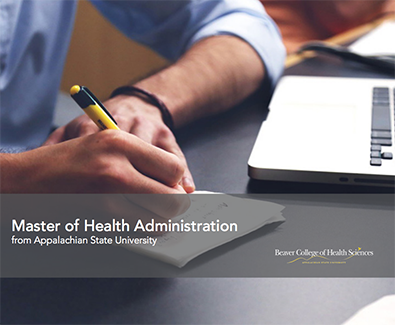 View the Master of Health Administration brochure (PDF, 458KB)
To Apply
Application information is available from the School of Graduate Studies.
News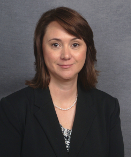 Dena Webb was awarded the Beaver College of Health Sciences Student Award in May of 2017. Congratulations Dena!
Dena is the cancer outcomes manager with Novant Health, an integrated healthcare network based in Winston-Salem, North Carolina. With Novant Health, she works to reduce variation in cancer outcomes and supports ongoing accreditation processes. Before her role in cancer care she spent 12 years in women's imaging at the Breast Center in Winston-Salem where she developed a passion for working with cancer patients as they began their breast cancer journey. She completed her B.S. in health management at Gardner Webb University in 2011 and is currently pursuing her M.H.A. at Appalachian State University. Dena lives in East Bend, North Carolina with her husband John, their two sons and dog Sadie. In her free time, she loves spending time with her family, camping and reading.