Advance Your Career
The Appalachian Master of Health Administration program is a hybrid online program designed to meet the needs of working professionals in western North Carolina. Graduates will have the knowledge and ability to be strong leaders of health care organizations throughout western North Carolina, the state, and nation. Watch two students talk about their experiences in the MHA here.
About the MHA Program
Testimonials from Students of the MHA
Online Program
The program is offered online through App State Online making it available to working professionals desiring to advance their careers. With health care management faculty teaching in both the undergraduate and graduate programs, the rigor and quality for which the baccalaureate health care management program is known is carried forward to the MHA program. Working professionals will earn a master of health administration degree while still working full time from an institution with forty years of experience educating health care management students.

The courses are designed with the working professional in mind including a theory to practice perspective that incorporates authentic projects and assignments in an active learning environment. The use of digital technologies allows students to meet and interact when convenient yet simulates the face-to-face classroom.

Our annual fall on-campus orientation is both a networking opportunity and an introduction to the program. Students meet their classmates, the faculty and staff who they will work with during their academic careers and learn about the program. Meeting fellow classmates, and learning about their discipline, the type of work they do, and their career goals often is the beginning of a life-long professional relationship. Time during orientation is also dedicated to access the online courses and use the digital technologies, meet the learning technologist, and complete the first assignment.
Part-time or Full-time
The 46 credit hour program offers part-time and full-time enrollment. Students enrolled full-time can complete the program in two years. The flexibility of the program allows part-time students to complete the program in three years. The program is designed around a flexible schedule that enables busy health care professionals to balance work and personal life with a strategic investment in their career.
Curriculum & Concentrations
The program embodies the Appalachian mission in focusing on the management of rural health and rural care organizations. In addition to a strong core curriculum in general health administration, students will have two possible areas of focus: health care leadership and health information systems.
Core Courses
Foundations of the US Health Care System Statistics for Health Administration
Health & Disease
Organizational Development & Behavior in Health Care
Financial Management for Health Organizations I, II Performance Improvement Concepts & Application
Health Economics
Management & Human Resources in Health Organizations
Health Law & Policy
Health Care Informatics
Executive Skills Development Strategic Management in Health Care
Leadership Focus
Leadership in Health Care
Health Care Operations Management Marketing in Health Care
Information Systems Focus
Health Care Data Management
Data Analytics in Health Care
Health Information Project Management
For More Information
For more information on the Master of Health Administration program and other programs in the Beaver College of Health Sciences, contact Nicole Williams.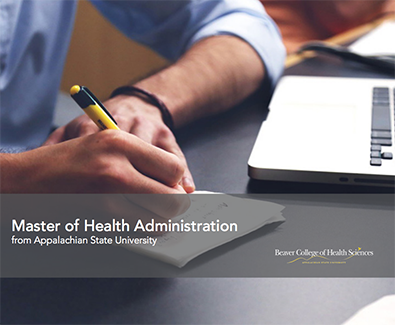 View the Master of Health Administration brochure (PDF, 458KB)
To Apply
Application information is available from the School of Graduate Studies.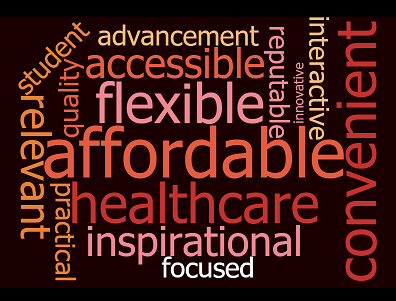 News
Rebekah Love Receives the 2018-2019 Beaver College of Health Sciences Student Award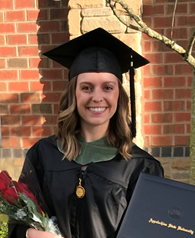 How do you think that your AppState MHA education and degree has or will impact your career growth?
Having my MHA from Appalachian State will allow me to move up within my organization and become a master's level analyst (I am currently a junior level public health analyst). I will also be able to take on more data analytics work within my current role. However, my ultimate goal is to work in the administration or quality assurance department of a long-term care setting, such as assisted living or adult day program, and this degree has given me the knowledge of what it takes to be an administrator of a healthcare organization.
What are your thoughts on the quality of the faculty and the education that you received?
I have nothing but great things to say about the faculty that teach the MHA courses. All of the instructors are experienced in our field and I felt like I was able to take away additional skills and knowledge at the end of each course that I can apply in my career. All of the faculty in the MHA program are also super friendly and approachable and they seem like they truly care about students' success.
What, if anything, would you tell future students about the AppState MHA program?
Time management is key! For students in the full-time track who are also working a full-time job, they will become master time-managers. However, I would also tell them that it can be done and it will be so worth it when they achieve that degree. In addition, I think it's important for future students to reach out to their classmates, even though this is an online program, and form a network. Having a few people they can connect with makes the program feel less "distant."
Danette Brackett Receives Scholarship from the Greater Charlotte Healthcare Executives Group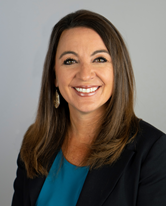 "I am honored to receive the GCHEG scholarship for the the Masters of Healthcare Administration program at Appalachian State University. This degree will help me to advance into an administrative role with any healthcare system. I had a hard decision to make determining which direction I wanted to take to advance my career. I was interested in the Physician Assistant Program and getting my Masters Degree. As I weighed out my options, the decision to pursue my Masters Degree became more clear. As a healthcare administrator, you are in charge of the fate of the entire healthcare system and not just one patient. My passion for helping others and having a career in which I could benefit someone else's life is why this degree became a good fit for me. This degree will help me to bring adequate healthcare to patients and will allow me to make a difference in the entire organization. As the trends in healthcare continue to change, this program will help me develop the leadership skills needed to implement change. This program will give me the ability to not only affect change but also do something positive and meaningful to create a wonderful patient experience for all."