Bachelor of Science in Health Care Management
Why pursue a career in health care management at Appalachian State?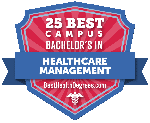 Appalachian State's undergraduate Healthcare Management program was ranked 8th in the nation in 2021 by Best Health Degrees.
In the two videos below, recent graduates share their experiences in our program. We enjoy talking to anyone who has an interest in the program. Please contact us via email or stop by the faculty offices on the fifth floor of the College of Health Sciences.
Rapid advances in the health care industry demand that organizations and health care providers seek leaders who are bold, innovative and visionary while possessing tried-and-true management skills. The HCM degree program prepares such leaders. Students who complete this program earn a Bachelor of Science in Health Care Management. The HCM program combines foundation business courses with a variety of courses providing knowledge and understanding of the health care industry. With this strong curriculum, graduates of the HCM program are prepared for challenging staff and management positions in a variety of health care organizations.
The HCM degree program was established in the Walker College of Business in 1972 in response to demands from health providers in North Carolina and surrounding areas for managers with solid business skills and knowledge of the uniqueness of the health care industry. ASU's HCM program has demonstrated a remarkable reputation for producing graduates who assume key leadership positions in their organizations, and make valuable contributions to the health care delivery systems within their communities. Beginning with the 2010-2011 academic year, the HCM program is located in the College of Health Sciences.
Careers
As one of the largest sectors of US enterprise, health care offers multitudes of opportunities for young adults who are looking for a career that affords:
professional challenges;
advancement potential;
diversity in terms of organizational settings and scope of responsibility; and
personal satisfaction derived from service to others.
An unquestioned fact is that health care is a business with all the challenges of effective and efficient business operations. In today's environment, successful health care managers are expected to demonstrate strong business skills tempered with the traditional medical mission of service to others. Additionally, health care managers must operate effectively in a constantly changing environment. Factors such as rapid advances in technology and increasing demands from purchasers and consumers for better quality health care are causing tremendous change in the US health care industry. Such an environment needs managers with solid business skills who can apply creative approaches to health care delivery or support services.
Examples
The health care industry encompasses a diverse array of organizational settings and management opportunities within these organizations. Trained health care managers can work either in organizations where health care is delivered or in organizations that support health care delivery. Entry-level managers can expect to hold positions such as supervisor, section head or department manager in larger organizations, or managing directors of small organizations.
The potential for advancement in the field is great because health care continues to grow and many health care organizations are large, with multiple levels of management responsibility. Some examples of the organizational settings where health care managers work are:
Health Care Provider Organizations:
Hospitals and health systems
Physician office practices
Long-term care facilities
Home care agencies
Hospices
Outpatient clinics
University or research institutions
Health Care Support Organizations:
Medical supply and equipment manufacturers
Pharmaceutical companies
Consulting firms
Advocacy groups and associations
Health-related local, state and federal government agencies
Health insurers, managed care organizations
Salary
Students choosing a career in Healthcare Management can expect their first job to be an entry- to mid-level management position in specialized areas with opportunities for advancement. The typical starting salary for an entry-level position ranges from $30,000 to $45,000. Some examples of duties a new graduate may expect include:
Human resources management
Information systems analyst
Marketing; public and/or customer relations
Financial operations; billing and reimbursement analyst
Business planning and development
Supervisory positions in patient care areas
Appalachian State University's Health Care Management degree program prepares graduates well to assume important leadership positions in health care organizations. With the combined preparation in basic business education and health care management coursework, our graduates are in high demand and at the forefront of our industry. Additionally, many of our graduates pursue graduate education.
For more information on a career in health management, visit Your Career as a Healthcare Executive.
Accreditation
The Health Care Management program is certified by the Association of University Programs in Health Administration (AUPHA), 2000 14th Street North, Suite 780, Arlington, VA 22201, Phone: 703.894.0940. AUPHA is "a global network of colleges, universities, faculty, individuals, and organizations dedicated to improving health by promoting excellence in healthcare management education." (www.aupha.org)
Beginning in the fall semester (2020) the Beaver College of Health Sciences will require all graduate and undergraduate students, who as a part of their program of study have required or elective clinicals, internships, field placements, or practicums, to submit to a criminal background check. The BCHS policy can be found here.
Link to Request a Permit for HCM 2110
To request a permit, click here.